Weapon Name:MP5
Type Weapon:Submachine Gun
Country of Origin:Germany
Caliber:9x19mm Parabellum,.40 S&W,10mm Auto
Mag Capacity:15-30-32 Round Magazine,100 Round Drum
Select Options:Semi-Auto,3 Shot Burst,Full-Auto
Introduced In:1966
Service Length:1966-Present
The MP5 is a submachine Gun developed by Heckler & Koch.The weapon has been used for the last 46 years and still in working service today.
Present DayEdit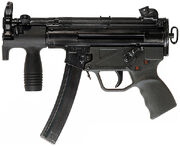 Still after all these years of service,The MP5 is still going strong and has went through many changes,Like the MP5K or the MP5 PDW,But the weapon is still going after all this time.
Ad blocker interference detected!
Wikia is a free-to-use site that makes money from advertising. We have a modified experience for viewers using ad blockers

Wikia is not accessible if you've made further modifications. Remove the custom ad blocker rule(s) and the page will load as expected.