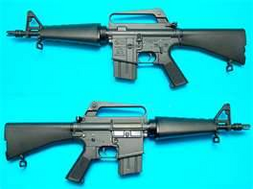 Weapon Name:CAR-15
Type Weapon:Assault Rifle
Country of Origin:USA
Caliber:5.56x45mm NATO
Mag Capacity:20-30 Round Magazine
Select Options:Semi-Auto,3 Shot Burst,Full-Auto
Introduced In:1968
Service Length:1968-Present
The CAR-15 is a Colt M-16 rifle variant assault weapon.The weapon was introduced to U.S. Special Forces (MAC-V SOG, Navy SEALs, Green Berets, etc) in 1968 for close combat.The weapon is a very reliable weapon however like the M-16,Had flaws.
Present DayEdit
The CAR-15 has been used for the last 44 years and has gone through many different changes in it's service time. The weapon's flaws however had it replaced with the M4A1 Carbine, but the CAR-15 is still occasionally used in the military.
Ad blocker interference detected!
Wikia is a free-to-use site that makes money from advertising. We have a modified experience for viewers using ad blockers

Wikia is not accessible if you've made further modifications. Remove the custom ad blocker rule(s) and the page will load as expected.